Lecturers, Researchers, Students, Scientists and Industry professionals, who wish to learn how to write a good paper in English: what to do and what to avoid.
**Delegates are encouraged to bring one of their papers to debate and review during the workshop.
Course Methodology
The course will be conducted by balancing theoretical concepts with examples and practical demonstration. The course language is entirely in English.
Biography of the convener
In September 2013, she joined the Department of Electrical and Computer Engineering at Rowan University, New Jersey, USA, where she is currently a tenured Associate Professor. She is Co-Founder and CTO of MRIMATH, LLC, a start-up company that provides solutions in medical imaging to transform patient care in the clinic.Her research interests are in signal and image processing, dynamical systems, and mathematical biology. Dr. Bouaynaya won the Best Student Paper Award at SPIE Conference on Visual Communication and Image Processing in 2006 the Best Paper Award at the IEEE International Workshop on Genomic Signal Processing and Statistics (GENSIPS'13) in 2013 and the runner-up Best Paper Award at the 2015 IEEE International Conference on Bioinformatics and Biomedicine (BIBM 2015). She was awarded the University of Arkansas Excellence in research Award in 2013 and Rowan University Excellence in Research Award in 2017. Her total research funding during the past 3 years exceeds $1.6 M from various U.S. agencies, including the U.S. National Science Foundation,
Dr. Nidhal Carla Bouaynaya (USA) received the B.S. degree in Electrical and Computer Engineering from the National School of Electrical Engineering, Computer Science and Telecommunications (ENSEA), France, in 2002, the M.S. degree in Electrical and Computer Engineering from the Illinois Institute of Technology, Chicago, IL, in 2002, the "Diplome d'études Approfondis" in Signal and Image Processing from ENSEA, France, in 2003, the M.S. degree in Mathematics and the Ph.D. degree in Electrical and Computer Engineering from the University of Illinois at Chicago, Chicago, IL, in 2007. From August 2007 till August 2013, she was an Assistant then Associate Professor with the Department of Systems Engineering at the University of Arkansas at Little Rock (UALR), Little Rock, USA.
Program
12:50-14:00 – Lunch
14:00-16:30– Tutorial : Become a better speaker
16:30 – Closure & Certificates distribution
09:00-11:00 – Tutorial: The Do's and Don'ts in Technical Writing
11:00-11:30 – Coffee Break
11:30-12:50 – Discuss selected sample papers from the participants
Registration
| | | |
| --- | --- | --- |
| For Tunisian | For Africans | Other Countries |
It covers: Admission to all sessions, Coffee Break, Lunch and a Certificate of Attendance.
Contact Us
Quick Contact
E-mail: workshops.inscription@gmail.com
Call us: (+216) 31 121 155
Facebook: conference / workshop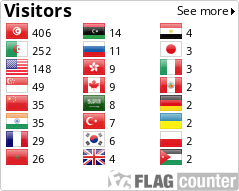 Address
Immeuble Marzouk
Rue Maghreb Arab
Khzema EST Sousse